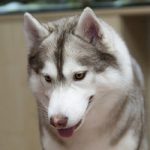 Lithuanian Junior Champion
Lithuanian Champion
Latvian Champion
Multi res Best in Group
Ice T'oshka Eskimoski Domek
---
About Tosya
First female in our family, was born 10 28 2005. She has arrived to us as the future friend for our Saffron and since the very first moments has captured our hearts. We've never had before such a joyful, naughty, reaching to lead everywhere and always, and at the same time remarkably sweet. Toshka is always full of energy at any dog-shows and at home, in sled-team. She's really fond of heading the team! When someone is taking a picture, it seems that she on purpose tries to get in a photo and she wants to look best! Toshka truly likes being in the focus of attention and her loveliness makes animal lovers feel happy.
She's always in a high mood and she also make highter others's mood. At home Toshka asks even the lazy cat not to sleep, but to get up and run around for fun. Toshka is clever like a fox, she often makes a fool of other pets or even people and then she feels really proud of herself. She's always like that. Toshka is an Alpha and a lead dog in our sled team.
Toshka's sir is Shapali DE CIUKCI. He came to Poland from Spanish famous kennel del CIUKCI Siberians. Shapali has many famous dogs in his pedigree. His sir's name is VERMONT de Ciukci, Spanish nice male with an excellent pedigree. Shapali's grandfather is Innisfree's ICE-T – the legendary Multi Ch, known and exhibited all over the World… in America, Europe, Asia… everywhere he was the best. He is one of the dogs, which are on the pages of the Siberian history. In 1998, in Europe (Helsinky) was World Dog Show, where he has achieved 5th place, as a World Winner. He has visited many great kennels, getting wonderful puppies there. His last stop was in De Ciukci kennel in Spain. Where has lived till the old days.
Shapali's dam is A Grip In A Movie Star an Italian redwhite bitch, known as a wonderful brood-bitch which gives beautiful offspring, just look at Shapali! And Shapali's grandmother is Karnovanda's BELLEK, a daughter of Karnovanda's Ezekiel the next great American dog, which is a son of Ch.Karnovanda's Born On The Fourth, who left after himself many titled offsprings. From mother's side Karnovanda's BELLEK is grandaughter of Innisfree's ICE-T.
Toshka's dam is Cassandra de Ciukci. She has arrived to Poland 18. 03. 2002, when she was 3 months old. She has a title of Poland Ch ans Multi BOB. Also she is II BIS KIELCE 2003. Cassandra's sir is also Innisfree'e Ice-T.
12 06 2013 a very special dog in my life crossed the rainbow bridge. My love, my slice of heart Tosia left this world.
Rest in peace my sweet Tosia! My heart always with you. Run free …
---
Photo galleries
---
Pedigree
---