I wish to invite you on the pages of my home-kennel 

Poliarinė ARKTIKA

.
When I was a child I usually spent my holidays in a country house of my grandmother, in picturesque wood Labanor. There I was in an environment of the pure nature… birds, wild wood animals and certainly home pets. There I studied to love all this and the nature became a part of my life. Later, all this has affected my decision to study biology-genetics at University of Vilnius. So, in my life there always were pets – a cat, birds or dogs. Once my passion were Persian Cats, then I was fond of breed Asian Sheep-dogs. But when in 2004 I saw Siberian's puppy for the first time – I've understood that exactly these dogs are "my" breed.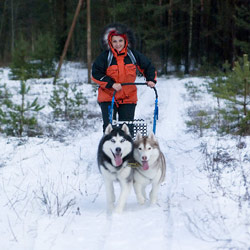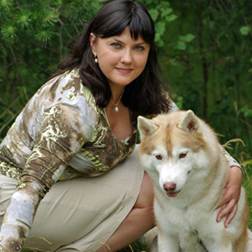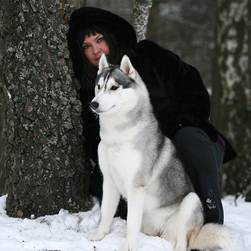 All my free time I spend with my Siberians or in studying Siberian breed. And the more I learn about Siberian breed, the more I admire it. However, breeding gives me the most pleasure, especially because I can use my genetics knowledge to achieve better results. I know that it will stay with me forever.
Our dogs have achieved great results in a very short time. They have become United Kingdom, Azerbaijan, Uzbekistan, Kazakhstan, Kyrgyzstan, Thailand, Lithuanian, Latvian, Estonian, Baltic, Russia and RKF, Poland, Slovenia and C.I.B. INTER champions. Grand Champion of Armenia, Grand Champion of Georgia, Grand Champion of Azerbaijan, Champion of the Caucasus, Champion of Montenegro, Grand Champion of Montenegro and Balkan Champion. Top Siberian husky in the UK 2012 and Top Siberian Husky Puppy in the UK 2015. They have been multiple winners of their breed, group and Best in show places in various dog shows. Furthermore, they have also had great results in the world class shows. Taffy is EDS Leeuvarden 2011 Best Baby in Breed, Vice Junior WORLD CHAMPION 2012, VICE EUROPIAN CHAMPION 2015 and won 19'CACIB. Moreover, Chispa has won her class in the world show of 2010. She is the First Own bred lithuanian C.I.B. INTER CH! Chispa is the mother of 19 Champions! Her daughter Taffy is the second local bred lithuanian C.I.B. INTER Champion! Taffy's sister Mont and our Heep's son Gjel Gamekeeper is Junior WORLD CHAMPION and WDS 2014 BEST OF BREED!
We hope that our dogs will keep doing as well as they have been in the past!
All photo galleries on this web-site could not be made without the help of Vytenis Mažeika, Svetlana Valujeva, Inesa Čekolis-Ščiočina and Miglė Narbutaitė. Thank you very much for your time for us and for really great pictures.
Just Hello and Welcome!
Elina