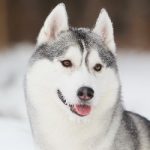 INTER C.I.B. Champion
Lithuanian Winner'2012
Latvian Winner'12
Baltic Winner'10 / WDS'10 class Winner
Lithuanian Champion / Lithuanian Junior Champion
Latvian Champion / Latvian Junior Champion
Estonian Champion / Estonian Junior Champion
Baltic Champion / Baltic Junior Champion
Slovenian Champion
Estonian Junior Winner'09
BIS III Baby / BISS Puppy / BIS Puppy
Chispa De Mallorca Of Arktika
---
About Chispa
In spanish Chispa means "Sparkle". This long awaited Sparkle of life has started in our Tosia while visitin Mallorca, the sunny island of Spain – in one of the most famous kennels in Europe – de Ciukci. The father of Chispa was American Champion Karnovanda's Aleksander Wolf, the son of mostly titled husky in its breed's history, 101 best in show winner, American and Canadian Champion, MBIS, MBISS Karnovanda's Niklas Wolf.
Chispa was the only female of the litter so without the doubt she had to stay in our kennel.
She was born with the white, heart shaped spot on her back. As of because this mark, she is very friendly to all the people and animals, sweet, not over-dominant and very gentle. Chispa has calm mind, her feminine character does not disturb her at all. She calmly reacts when faced with new things and surprises, such as drying her pelt with a noisy hair-dryer or a firework, suddenly shot into the sky.
Her first show was successful. She has fascinated the judges with her expression and graceful movement and has won Baby BIS III.
There are a lot of famous ancestors in our baby girl's pedigree. Quite a few of the have taken a significant part in the history of the breed – the legendary MULTI CH Innisfree's Ice-T, MBIS, MBISS Am/Can CH Karnovanda's Niklas Wolf, BISS, MBISS Am/Can CH Innisfree Fire and Frost, BISS, MBISS Am/Can Kristari's Firechief O'Tahluu, Am/CH Karnovanda's Bellek, BIS Am/Can CH Innisfree Tradewind.
Few years have passed and Chispa grew up to be a graceful, beautiful dog. Our dreams to have an excellent representative of the breed have come true. She is the mother of 19 Champions, INTER C.I.B. Champions, MCH, BIS Winners, as well as TOP SIBERIAN in UK, Vice Junior WW'2012 and VICE European Winner 2015.
Her type is recognized in all the children and grandchildren. So our Chispa have made the type of Poliarine Arktika dogs recognizable.
Our "Sparkle" Chispa left us 2018.09.24.
She was a very special dog and a great brood bitch. Chispa could pass her type through generations like no other dog i knew. I hope she will live on through her many wonderful kids and grandkids that all over the world.
Chispa had a wonderful summer this year with lots of free running and swimming. Unfortunately her rainbow bridge was waiting for her at the end of the summer. She is now free from any burden along with Tosia and Ramesses.
---
Photo gallerys
---
Video
---
Pedigree
---