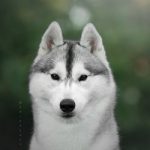 Multi Best in Group
Multi BEST JUNIOR IN SHOW
Multi BEST IN SHOW
Estonian Junior Champion
Estonian Junior Winner'2019
Lithuanian Junior Champion
Vgr Club Winner'2019
Latvian Junior Champion
Baltic Junior Champion
Lithuanian Champion
Latvian Champion
Estonian Champion
Baltic Champion
Vgr Club Winner'2021
Vgr Club Winner'2023
OVShow Fortune Cookie For Arktika
---
About Cookie
I want to share a great happiness with you and introduce our new family membe: Cookie (OVShow Fortune Cookie For Arktika), sweet girl out of our beloved Taffy and Snape.
Some time ago i came across an article in which Hawking (may he rest in peace) is sharing his thoughts saying that black holes (not only in space, but universally) isn't as black as they are painted. They are not an end, but a beginning of something new. He is offering his illness and himself as an example: illness seemed to be an end to his life, but it turned out to be a beginning of his great discoveries. I took this thought very close to the heart, it gives a new hope. When everything looks bad it usually is just a start of a new path. I never even dreamed that i will have such wonderful friends, who gave me an opportunity to have Cookie now.
Thank you so much Ольга Чичирко (Olga Chichirko), Ivan Иван Чичирко, Katya Katyusha Alexandrova and Erika Tcogoeva for everything you did for us! 
"The message of this lecture is that black holes ain't as black as they are painted. They are not the eternal prisons they were once thought.
Things can get out of a black hole both on the outside and possibly to another universe. So if you feel you are in a black hole, don't give up – there's a way out." Stephen Hawking
---
Gallery
---
Video
---
Pedigree
---